Keep the heat with double wall vacuum sealed insulation to keep your drink hot (or cold) for longer. A drafted vessel and tapered rim for easy pour, it's lovely to drink from - lid off or on. Designed for lasting drinking pleasure on the go.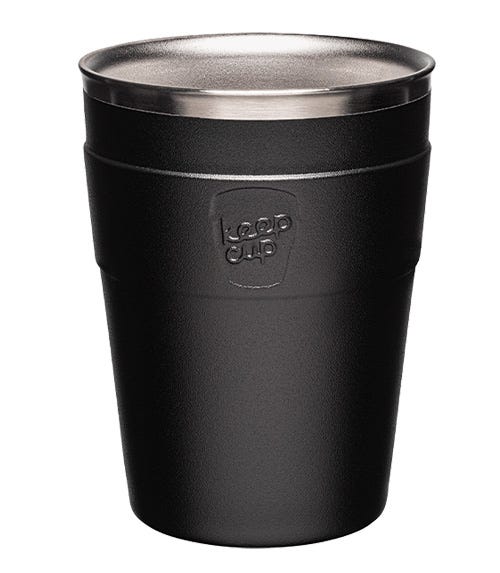 18/8 food-grade electropolished stainless steel
Benefits
Double-walled and vacuum sealed for thermal insulation, to keep your drink hot (or cold) for longer, and to protect touch.

Electropolished stainless steel to enjoy the full flavour of your drink. We use the highest quality food-grade stainless steel 18/8 (304) so there is no metallic after taste, meaning a ceramic painted coating isn't necessary.

Cup lip designed for pleasurable drinking without the lid.

Drafted for an easy pour, with volumes and sizes replicating industry standard single-use cups for ease of cafe workflow and speed of service.
Material information
The "grade" of stainless steel refers to the amount of chromium and nickel found within it, percentage of which is used to designate and determine best material fit for purpose. ​ Stainless steel 18/8 (also referred to as type 304) is the most common grade of stainless steel used for food preparation and dining due to its robust durability and non-corrosive nature when used in conjunction with myriad of beverage and food types and no metallic aftertaste It's known for its durability and reuse longevity, and is a 100% recyclable resource without degradation. Due to its long life, high value and increasing demand, the average recycled content in current global stainless steel production is 25%. The stainless steel used for our cups comes from South Korea and is 35% recycled scrap content.
Electropolishing creates a microscopically smooth, mirror-like surface (compared to polished). It provides extra protection from corrosion, metallic taint and reduced opportunity for bacterial growth, and removes the need for an interior coating or lining.
Part manufacture
China

Manufacture waste
Parts that do not meet quality standard are collected and sold back to the mill for use in production. Scrap metal content is mixed with raw material as standard industry practice.

Assembly waste
Customer returns and reject parts from assembly are collected and sent to local commercial recycling. Along with other collected metal material, they are shipped to Germany for reprocessing. Due to material long life, high value and increasing demand the average recycled content in current global production is 25%. Scrap is valuable for the raw elements they contain, such as chromium and nickel, and for the reduced raw material required.
End of life
Replacement parts are available, so you can replace the part, not the product. Stainless steel can be recycled in household waste collection services. However only 30% of steel is recycled globally. The paint finish does not impact recyclability. The global recycling industry is in crisis, so the most effective action you can take is to reduce and reuse. If your vacuum seal is compromised by puncturing or dropping, we ask that you please continue using it for those occasions where you don't need the thermal properties, rather than it throwing away.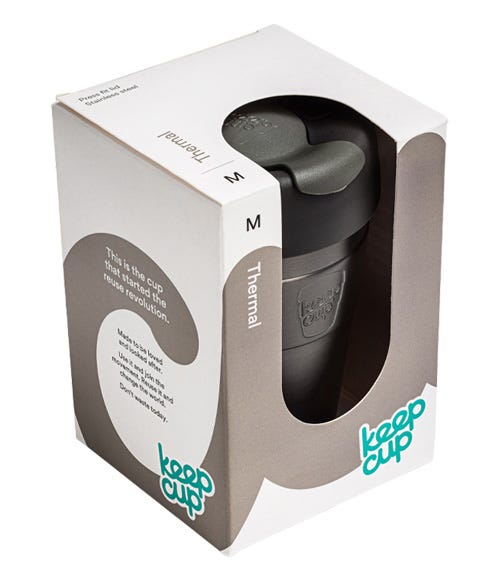 100% FSC certified board using soy-based inks. Our packaging tells the story of KeepCup's reuse revolution to inspire our customers to reduce and reuse.
Benefits
I

n addition to telling the story of our products and their benefits, we design packaging that walks the line - avoiding breakage and protecting products in transit while minimising material to reduce waste.

Where appropriate, we work with customers to ship large orders bulk packed and semi assembled, without retail packaging, to reduce waste.



Carton packaging material
Our recycled cardboard cartons are designed to maximise the number of product configurations, and are made in Australia and the UK to service local markets. All packaging materials are reused within our supply chain and packing processes. The cartons themselves are used first to store and ship components to us from our manufacturers and are then reused in our assembly locations to ship products to our customers.
Part manufacture
Australia and the United Kingdom

Manufacture waste
100% of all retail and carton packaging reject stock and manufacture offcuts are collected and recycled.

Assembly waste
When packing orders, we reuse stock cartons and utiliise cardboard waste as space filler. Any damaged cartons, reject retail boxes or unused packaging are commercially recycled.

End of life
All retail packaging and cardboard cartons are readily recycled via household waste service collections worldwide. Please place in your recycle bin for collection.